Surrey RCMP Community Response Unit seized a large amount of drugs, cash and a vehicle during proactive patrols in South Surrey.
On October 8, 2021, at 5:00 pm, Community Response Unit (CRU) officers observed what was believed to be a drug trafficking transaction between the driver of a vehicle and a man on foot in the 3000 block of 152 Street. Officers conducted a roadside traffic stop with the vehicle, which lead to both occupants of the vehicle being arrested.
Police seized 151 oxycodone pills, 51 morphine pill, and 21 grams of cocaine, which was packaged for street level sale. In addition to the illegal drugs, officers seized $4685 in cash along with the vehicle being used to facilitate the offences.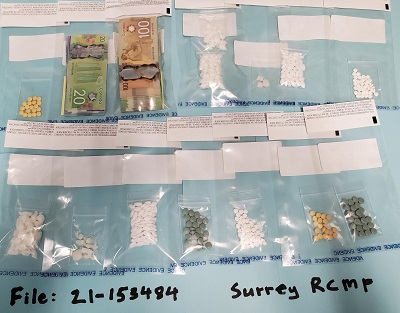 The occupants of the vehicle, a 27-year-old Surrey man and a 25-year-old New Westminster woman were released at scene. The investigation is ongoing and charges are pending.
Disrupting illegal drug distribution networks within the community is one of our strategic objectives. The Community Response Unit is one of our units that actively works to target drug trafficking in our city, says Media Relations Officer Constable Sarbjit Kaur Sangha. This is just one of many investigations that highlights Surrey RCMP's ongoing commitment to serving our community.
If you have any information on this matter, you are asked to contact the Surrey RCMP at 604-599-0502.