Surrey RCMP is seeking the public's assistance with identifying two men who robbed a bank in Fleetwood.
On March 9, 2022 at 4:38 p.m., Surrey RCMP received a report of a robbery at a financial institution in the 15900-block of Fraser Highway. It was reported that two men threatened bank staff with a suspected firearm and demanded money.
Surrey RCMP Frontline officers arrived on scene within minutes; however, both suspects had fled the area. Fortunately, no one was physically injured in the bank. The two suspects were able to get away with a substantial amount of cash.
The suspect with the alleged firearm was described as a Caucasian male, wearing a black hoody with a light coloured hood, and a construction type reflector vest. He had his face covered with a black ski mask. The second suspect was described as a Caucasian male, 20 to 30 years old, wearing a red jacket with a hood, black track pants with three white stripes and was wearing a white mask. (see attached photos).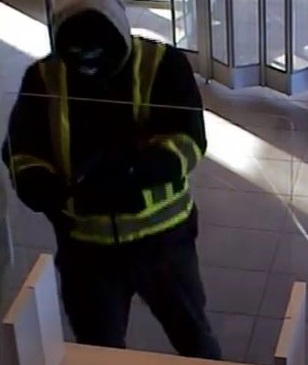 Anyone with information about this incident is asked to contact the Surrey RCMP at 604-599-0502, or Crime Stoppers, if they wish to remain anonymous, at 1-800-222-8477 or www.solvecrime.ca.